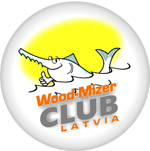 Wood-Mizer club was established in 2006. The club organizes an annual golf tournament exclusively for Wood-Mizer sawmils owners. You can take part in this tournament with your family members, and not to worry no previous experience in golf is necessary. The tournament will start with a golf professional doing a teaching clinic on some basic fundamentals of golf. After that the teams will be selected and the play will begin. Every team will be lead by an experienced golfer. The highlight of the tournament will most certainly be the "Hole-In-One" contest, where one skilled or lucky shot will win you a Wood-Mizer saw! Many of our clients have picked up golf as their new hobby. This event would not be imagined without a relaxed atmosphere and delicious foods.
Don't miss out and sign up for our annual golf tournament now!
Wood - Mizer Club 2014 from Oberts on Vimeo.
Wood - Mizer Club 2013 from Oberts on Vimeo.
Wood - Mizer Club 2011 from Oberts on Vimeo.